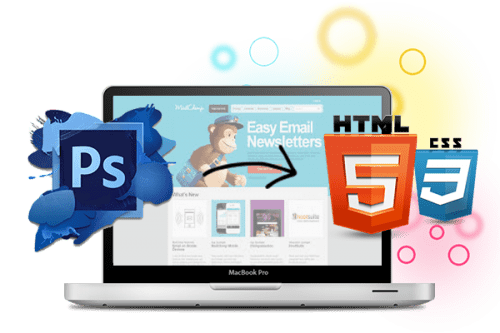 Quite simply put PSD to XHTML conversion implies transforming a website design into a real website with interactive capabilities and ensuring your website is optimized for all major search engines and browsers. Innovative Consulting can turn an attractive design into an accessible website optimized for all major search engines and compatible with all major web browsers namely Internet Explorer, Mozilla Firefox, Opera, Safari and many more.
Our expert XHTML/ CSS developers achieve this by converting a PSD designs into XHTML code and employing sleek CSS techniques that follow SEO Semantic
Markup/Code standards:
Hand coded XHTML 1.0 Strict markup
Light-weight table-less CSS layout
Commented and shorthand CSS
Clean W3C valid XHTML and CSS
Optimized images for fast-loading
Resizable Fonts
Our service can benefit one and all, but clients who make the most of it, are mainly web designers who lack exhaustive XHTML coding knowledge, but need W3C valid SEO compliant code to run their websites and blogs; companies who need to adapt graphic designs into templates for content management systems such as Drupal, Joomla; e-Commerce entrepreneurs who need to implement designs as skins or theme for third party shopping cart software such as X-Carts; website design and development enterprises who specialize in designing fabulous web pages but can't be bothered with coding.
By letting us convert their PSD designs to XHTML/ HTML our clients rely on us to trick and debug the code and spend their energies on core revenue-generating activities. Depending on the complexity and volume of the PSD designs our team of expert developers can delivery XHTML/ HTML/ CSS code in about 18 working hours (per page) or less without altering or impacting the original design. We convert PSD, JPG, GIF, TIF, PNG, AI, EPS, CDR, INDD, BMP, PDF, UFO and all other common image file formats to highest quality XHTML/ HTML at an affordable price.